Booking Method 2: MindBody App

Follow The Instructions Below To Successfully Book, Cancel And Re-Schedule Classes On The MindBody App
1. Download the app here and follow the instructions below. 
*iOS 9.0 or newer must be installed on your mobile device to use the MINDBODY app
Launch the MINDBODY app and select or continue with email.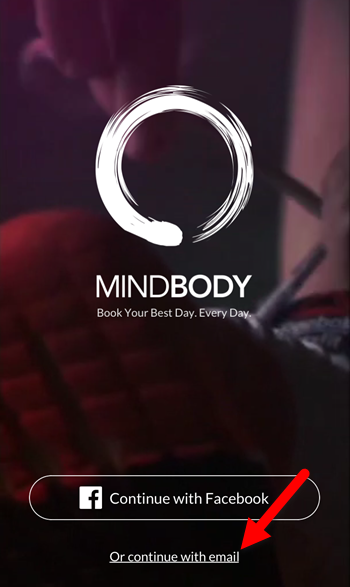 Enter your email address, then tap Next. (Existing users will be asked to log in.)
Enter a password, then tap Next.
Enter your first name, last name, location, and email preference, then tap Create Account.
Now, simply log in to your personal email account to confirm and verify your address. This step will also sync your existing MINDBODY accounts with the app.
If you check your account info in the app and your current agreement is not shown, follow the next steps on how to sync your accounts.
2. Sync Mind Body accounts to the app itself (this will enable your previously purchased agreements and account details to be visible on the app if they are not already)
Tap More at the bottom of the screen (use the three dots on the left side of the screen for Android users)
Select 'Settings'
Tap the Send button under Verification Email
Now check your Inbox for the verification email, it should arrive within a few minutes.
Open this verification email and click the enclosed link, then scroll to the "Search for a business" section at the bottom of the screen.
Enter the name of the missing business and tap Search.

Tap on the name of the business you would like to sync.

Enter the email address and password you use with this business (the email you gave us when you signed up and the password sent to you in the welcome email/or what you have changed it to).

Tap Sign In
Notes:
1. Little Dragons (3-5 YRS) are limited to 10 regular spaces per class + 2 spaces for make-up classes and trials
2. Dragons (6-8 YRS) are limited to 10 regular spaces per class + 2 spaces for make-up classes and trials
3. Mindful Dragons (9-12 YRS) are limited to 14 regular spaces
4. Due to the limited space in classes parents must cancel classes online no less than 24 hours' notice before the start of the class. Once this window has passed the option online to cancel will no longer be available and the class will be taken as charged.
5. The class information in the 'Book My Class' page will let you know how many children are enrolled into each class on a particular day. You may only book a make-up class if there are available spaces. If all spaces are taken you will need to choose another class. Please do not come to class if the online system says the class is full as you will be turned away in all instances.
6. Make-up classes must be booked in by the parent no more than 15 days after the date of the missed class. Once this period has passed the class credit will have been taken as used.
7. Once parents know any holiday dates it will be up to them to log into the account, cancel the classes that cannot be attended and book in make-up classes. (all dates for time freezes on 12-month agreements MUST be emailed to info@mindfulwingchun.com.hk )
8. If your child exceeds a temperature of 38 degrees Celcius please do not bring him or her to class. If they fail the forehead temperature check prior to the start we reserve the right to advise your child to be taken home. Likewise, if your child has excessive coughing and sneezing we will suggest that they be removed from class. We try our best to limit the unnecessary spreading of illness's and virus's and ask for your support in this matter.