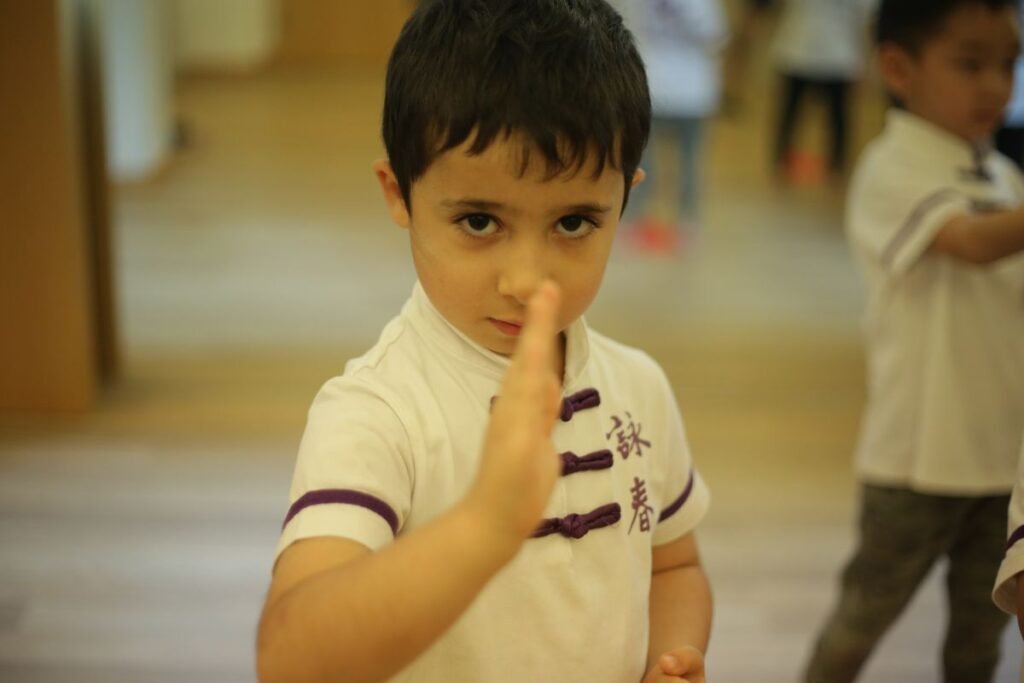 What are the health benefits for kids while doing Kung Fu? Through training and openness, the true human qualities of determination, forgiveness, compassion, respect, honour and integrity can flourish inside us. As we bring this presence into our daily lives we become steady and confident, firm yet flexible, disciplined yet spontaneous, intense yet light, focused while flowing.
At MWC and in our kids curriculum and classes, we strive to develop inner peace and stillness so that the highest potential of each individual can emerge through the vehicle of Wing Chun, meditation and contemplation/discussion. Our children's martial arts classes take place within a non-competitive atmosphere where students are invited to accept themselves and each other non-judgmentally. We model and teach unconditional acceptance in all aspects of the students' Kung Fu training. They are encouraged to do their best without feeling that they have to be the best in order to be accepted or appreciated.
We have designed our kids classes and system so that it promotes an ethical culture based on responsibility, respect and mindfulness. All students are held accountable for their own behaviour and for following the agreed procedures and instructions to allow the best learning for martial arts to take place for all.
By implementing and promoting such a wonderful and welcoming learning atmosphere, we aim to ensure that the following concepts are areas of growth in every student:
Martial arts skills, with the intention to use such skills only for self-defence, protecting the weak and upholding justice
Good manners, self-respect and self-discipline
Comradeship and respect for other people
Life skills and practical tools for effective and open communication – the ability to truly listen to the needs and feelings of others while assertively voicing their own
Positive attitudes and enduring persistence
Greater self-confidence and inner awareness of their emotions and thoughts
Understanding and applying healthy lifestyle habits such as physical fitness and a knowledge of nutrition and basic anatomy
Our method of Wing Chun Kung Fu has been passed down through a very direct lineage that fosters many beneficial skills. Our team of instructors have many years of experience teaching kids of all ages, and have done extensive training to teach MWC's unique Kids' system to pass on the principles and benefits of Wing Chun in a disciplined yet fun atmosphere.
The many Health benefits for Kids with wing Chun
These days, most children are exposed to smart phones and tablets from a very young age. These devices might be very helpful and educational, but sadly they don't do much good to our kids' postural health and sense of body awareness as they sit hunched over and absorbed in their iPad for hours at a time. Unfortunately, most schools and households don't put enough emphasis on correct posture and general bodily awareness, which is why it's highly beneficial for kids to participate in activities such as our particular style of Kung Fu classes from a very young age, to balance out these unconscious and unhealthy postural habits.
Another advantage of learning Wing Chun martial arts is that it develops kids' confidence. A healthy level of confidence established at an early stage can be beneficial in every step of a child's development in life. Children naturally develop their self-confidence by learning self-defence skills. Furthermore, our teachers aim to build confidence in kids by praising them in every class for accomplishing their goals.
By practising this beautiful art, kids can also improve their concentration, relaxation and sense of balance.
Our Wing Chun Kung Fu Kids classes have a myriad of benefits. You should try for yourself and see!
Kung Fu Philosophy (Life Skills Section of the Class)
At Mindful Wing Chun we believe that the self-defence aspect is only a small branch of the Wing Chun tree. That's why all our classes and special events (and some gradings) include life-skills sections called "Kung Fu Philosophy", where we discuss and share the other important aspects of mastering this art. This interactive section of the class gives us the opportunity to share concepts about important subjects that help develop students' life skills. These 3-5-minute sections are conducted in front of the parents so that they can be a part of their child's learning experience and provide support and perspective to each lesson. We cover the following subjects:
Wing Chun Principles
Self-Defence Awareness
MWC's Kung Fu Code of Conduct
Understanding Emotions
Authentic Leadership
Confidence and Self-Esteem
Peaceful Communication and Relationship-Building
Keys to Success
Healthy Habits to Live By
Our Body (Anatomy and Physiology)
Bullying