The specially designed Summer Camp classes will be 1.5 hours in length. Moreover, focusing on movement, fitness, stamina, circuit training and team games. All infused with the Wing Chun principles and the Mindfulness/awareness aspects.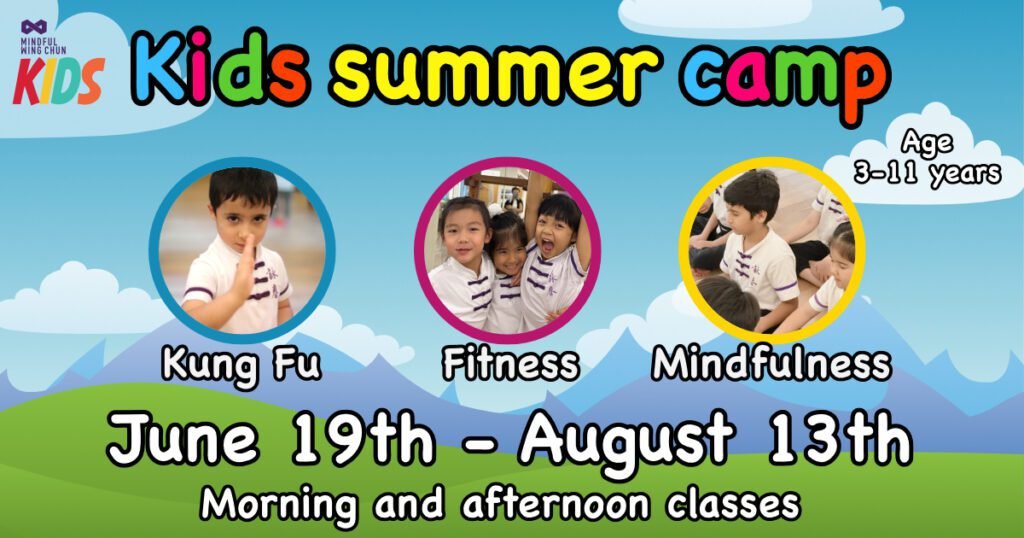 Where?
All Summer Camp classes held at Mindful Wing Chun, 8/F On Lan Centre, 11-15 On Lan St Central, Hong Kong
Days /Time / Age Group
The classes are set to run from Monday June 19th to Sunday August 13th on the days and time below;
Kids Summer Camp 2023 Wing Chun Kung FU
Monday 10.30am – 12pm (3-6 yrs) | 2.00pm – 3.30pm (6-11 yrs)
Tuesday 10.00 – 11.30am (6-11 yrs) | 2.00pm – 3.30pm (3-6 yrs)
Wednesday 11.00am – 12.30pm (3-6 yrs) | 2.00pm – 3.30pm (6-11 yrs)
Thursday 11.00am – 12.30pm (6-11 yrs) | 2.00pm – 3.30pm (3-6 yrs)
Friday 10.00am – 11.30am (3-6 yrs) or (6-11 yrs)
Saturday – Use reg classes
Summer Camp Class Prices in HK$
$400 for x1 classes
$700 for x2 classes ($350 per class)
$900 for x3 classes ($300 per class)
$1,000 for x4 classes ($250 per class)
$1,800 for x8 classes ($225 per class)
For any other amounts of classes we take the lower denominator and use that to charge the extra classes eg. If the students wants to take 6 classes – we will use the 4 class price to add on the additional class.
The many benefits of Wing Chun for Kids
Apart from the obvious Self-defence benefits, Wing Chun Kung Fu builds a strong core and healthy postural habits, as well as balance, determination, discipline, respect, focus, mind-body connection, self-esteem and much more.
It truly is a perfect developmental tool for young and old from all walks of life, and our experienced team teaches it in a way so that our students understand how to apply these benefits to different situations in their everyday lives!
We also teach adults! Check out our adults classes here at Mindful Wing Chun